Description
Game Description
The First-ever Genuine BLEACH 3D MMORPG Mobile Game
Game Features
Truthful to the Anime Classic, Replay the Story of a Soul Reaper Agent
Joint development with KLab Games, Original Anime Characters, Story Plot & Classic Skill Reappear, The First-ever Genuine 3D MMORPG BLEACH ARPG Mobile Game!
The reappearance of Original Voice Actors, Hundred Actors Lineup
A Roster of Japan's popular voice actors, an Audio-Visual Feast, Original Voice Talents Reappear, Great Immersive Experience, Leading you to the other side of the world!
Open World Map in 3D, Offering Free Exploration of Hueco Mundo
360° free rotating viewing angle, Reappearance of Soul Society, The Human World, Hueco Mundo. Famous Locations such as the Kurosaki Clinic, Urahara Shop, the Rukon District, Las Noches & others, Not featuring a Simple & Boring Mission Mode, Explore the Human world and Hueco Mundo anytime on your own!
13 Court Guard Squad Gathers, Experience Great Fighting Mechanisms
Bankai! Feel The Power when Ichigo Kurosaki waves his Zanpakuto! Control renowned characters such as Byakuya Kuchiki, Kenpachi Zaraki, Uryu Ishida, Form The Strongest Squad and Experience the most Realistic Battle Experience on Mobile
Multiplayer Real-Time Battles, Become a Real Soul Reaper
Brand New PvP Mode, Real-Time PvP Solo Battles, Fight powerful enemies, together with your Teammates, And dive into the Unlimited Multiplayer Hueco Mundo's Big Brawl, Join the fight together and march toward the final chapter!
Delivery Instruction for BLEACH Mobile 3D Top Up
First, place your order and contact live chat with your order number.
Next, provide us your User ID and Server ID as shown in the picture below.
After that, please wait patiently for the Crystals to be credited to your account within 30 minutes.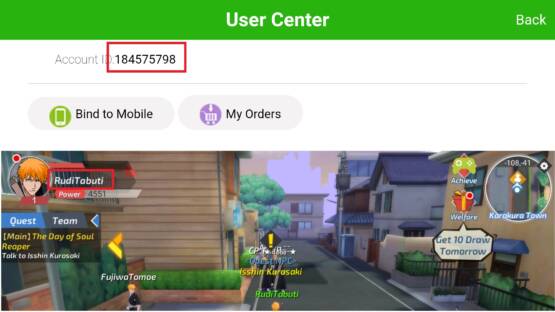 How to purchase in MooGold
First, sign in to MooGold or register a new account at MooGold.com/account.
Next, go to the Shop page to choose the desired category or games you want.
You can also search through the search bar.
After that, choose the product and select the quantity you want.
Click Add to Cart. Complete the checkout by choosing a payment method and make a payment.
After successful payment, contact live-chat for listing, etc, and with your order id to receive your item.
Important Information:
Only User ID, Username, and Server ID are needed for BLEACH Mobile 3D.
You may stay logged in throughout the transaction, once the top-up is completed, you will receive the Crystals in your account.
Please enter your User ID correctly to avoid delay on the BLEACH Mobile 3D top-up.
WHY BUY FROM US?
We are the authorized online reseller for BLEACH Mobile 3D Crystals. MooGold offers various denominations in our store depending on your gaming needs. Besides that, we also provide you with multiple payment options. We provide 24/7 customer service and fast & reliable delivery.
Download Link
Android:
https://play.google.com/store/apps/details?id=com.koramgame.bleach.global&hl=en&gl=US
IOS:
https://apps.apple.com/us/app/bleach-mobile-3d/id1480815980