Description
League of Legends Wild Rift Game Description
Experience the immersive PvP MOBA gameplay of League of Legends: Wild Rift, brought to you by Riot Games, on mobile! Designed specifically for mobile-first PvP, Wild Rift offers intense 5v5 multiplayer online battle arena (MOBA) action, testing your skills, strategies, and combat reflexes. Wild Rift offers a rich array of content and innovative features for the ultimate PvP multiplayer journey. Revel in real-time strategy and lightning-quick MOBA combat, complemented by smooth controls and diverse 5v5 gameplay. Team up with friends, select your champion, and engage in thrilling play-to-win battles. Embrace the team fight spirit, testing your combat skills in exciting clashes. Join the dynamic world of competitive 5v5 battles in League of Legends: Wild Rift. Indulge in exhilarating PvP battles in both casual and ranked modes, level up your champions, and unlock powerful abilities. Experience the classic League of Legends MOBA experience in a mobile adventure that is unparalleled in its multiplayer online gameplay, competitive matches, and engaging battlegrounds. Download League of Legends: Wild Rift today and guide your team to triumphant victory! With its unique blend of strategy, action, and competition, Wild Rift is the ultimate mobile MOBA game where legends are made.
Delivery Instruction for League of Legends Wild Rift Top-Up with Riot ID :
Firstly, place your order and contact live chat with your order number.
Next, provide us your Riot ID as shown in the picture below.
After that, please wait patiently for the Jade to be credited to your account.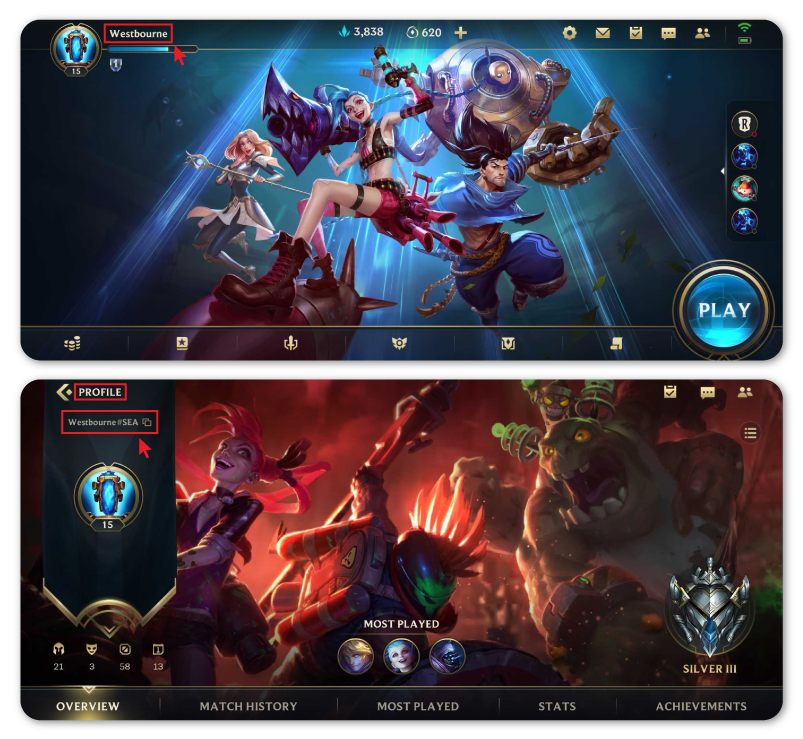 How to find your Riot ID
Open the game and enter the Game Lobby.
Tap your name beside your avatar in the top-left corner and open the My Profile tab.
Tap the ID to copy your Riot ID and paste it in MooGold.
How to purchase League of Legends Wild Rift Top Up in MooGold
Sign in to MooGold or register a new account at MooGold.com/account.
Go to the Shop page to choose the desired category or games you want.
You can also search through the search bar.
Choose the product and select the quantity you want. Click Add to Cart.
Complete the checkout by choosing a payment method and make a payment.
After successful payment, contact live-chat for listing, etc, and with your order id to receive your item.
Important Information:
Only Riot ID is needed for Onmyoji Arena Jade top-up.
You may stay logged in throughout the transaction, once the top-up is completed, you will receive the Jade in your Onmyoji Arena account.
Please enter your Riot ID correctly to avoid delay on top-up.
Follow for 200IQ gameplay clips, dev and feature updates, and a whole lot more: Instagram:
https://instagram.com/playwildrift
Facebook:
https://facebook.com/playwildrift
Twitter:
https://twitter.com/wildrift
Website:
https://wildrift.leagueoflegends.com
Support:
https://support-wildrift.riotgames.com/
Privacy Policy:
http://leagueoflegends.com/legal/privacy
Terms of Service:
https://na.leagueoflegends.com/en/legal/termsofuse