Description
Delivery Instruction for League of Legends Wild Rift Top Up with Riot ID :
Firstly, place your order and contact live chat with your order number.
Next, provide us your Riot ID as shown in the picture below.
After that, please wait patiently for the Jade to be credited to your account within 30 minutes.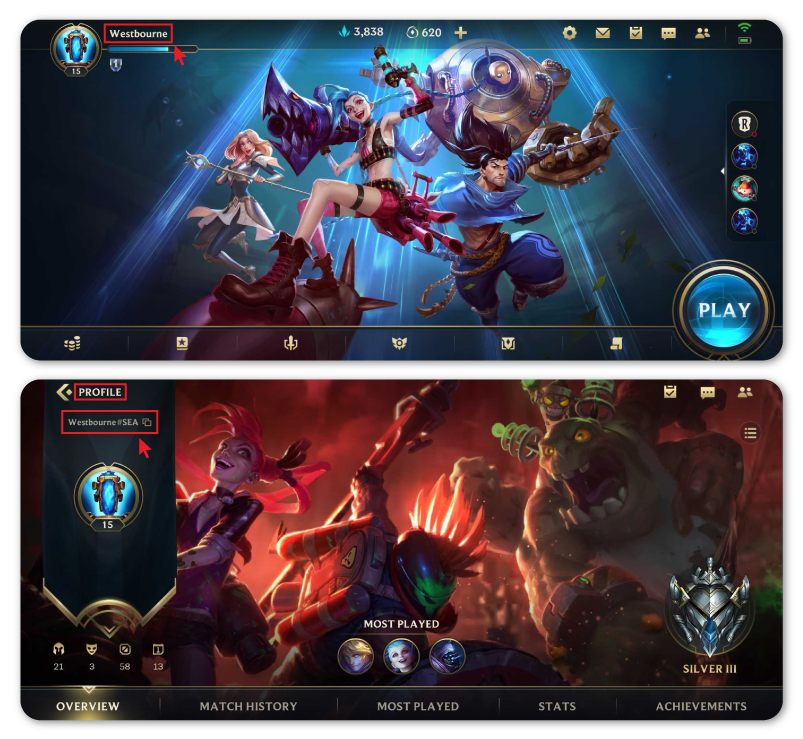 How to find your Riot ID
Open the game and enter the Game Lobby.
Tap your name beside your avatar in the top-left corner and open the My Profile tab.
Tap the ID to copy your Riot ID and paste it in MooGold.
How to purchase League of Legends Wild Rift Top Up in MooGold
Sign in to MooGold or register a new account at MooGold.com/account.
Go to the Shop page to choose the desired category or games you want.
You can also search through the search bar.
Choose the product and select the quantity you want. Click Add to Cart.
Complete the checkout by choosing a payment method and make a payment.
After successful payment, contact live-chat for listing, etc, and with your order id to receive your item.
Important Information:
Only Riot ID is needed for Onmyoji Arena Jade top-up.
You may stay logged in throughout the transaction, once the top-up is completed, you will receive the Jade in your Onmyoji Arena account.
Please enter your Riot ID correctly to avoid delay on top-up.
League of Legends Wild Rift Game Description
Dive into Wild Rift: the skills-and-strategy 5v5 MOBA experience of League of Legends by Riot Games, now built from the ground up for mobile. With smooth controls and fast-paced games, you can team up with friends, lock in your champion, and go for the big plays.
PLAY TO OUTPLAY
Master the Rift and earn your legend with dynamic champs and ever-changing strats. Each game is a chance to land the perfect skill shot, turn the tides in a crazy team fight, or pull off that sweet, sweet pentakill.
COMPETE WITH FRIENDS
Teamwork makes the dream work in this mobile MOBA. Whether you're a duo, trio, or full five-stack, you can queue up with your squad and climb the ladder one enemy Nexus at a time.
CHOOSE YOUR CHAMPION
Dunk on the competition with a giant sword, freeze enemies in their tracks with a cross-the-map ice arrow or lure opponents to their doom with mesmerizing charm. Whatever you want your legend to be, there's a champ for you.
FAIR AND FREE TO PLAY
Face off in matches balanced for skill level as well as party size. All champions can be earned for free in Wild Rift, and there's no paying for playtime or power. Ever. Follow for 200IQ gameplay clips, dev and feature updates, and a whole lot more: Instagram:
https://instagram.com/playwildrift
Facebook:
https://facebook.com/playwildrift
Twitter:
https://twitter.com/wildrift
Website:
https://wildrift.leagueoflegends.com
Support:
https://support-wildrift.riotgames.com/
Privacy Policy:
http://leagueoflegends.com/legal/privacy
Terms of Service:
https://na.leagueoflegends.com/en/legal/termsofuse