Description
Lord of the Rings Description
Epic tales of old, be it of love, friendship, or glory, are in days bygone. A new War of the Ring is on the horizon, and the fate of Middle-earth now falls into your hands. An irrepressible dark power has been growing and seeping through every inch of Middle-earth. From Minas Tirith to Mount Doom, each faction is desperate to seize control over the One Ring and take dominion over Middle-earth once and for all.
Delivery Instruction for Lord of the Rings Top Up
First, place your order and contact live chat with your order number. Next, provide us your User ID and Server ID as shown in the picture below. After that, please wait patiently for the Gems to be credited to your account within 30 minutes.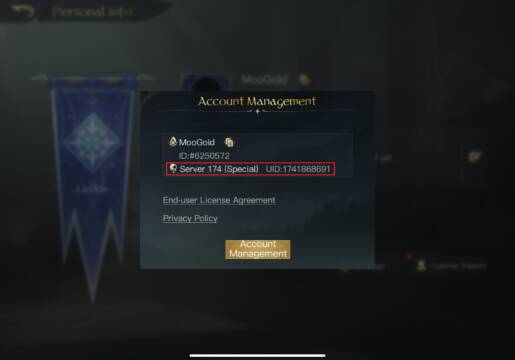 How to purchase in MooGold
First, sign in to MooGold or register a new account at
MooGold.com/account
. Next, go to the Shop page to choose the desired category or
games
you want. You can also search through the search bar. After that, choose the product and select the quantity you want. Click Add to Cart. Complete the checkout by choosing a payment method and make a payment. After successful payment, contact live-chat for listing, etc, and with your order id to receive your item.
Important Information:
Only User ID and is needed for Lord of the Rings Top Up. You may stay logged in throughout the transaction, once the top-up is completed, you will receive the gems in your account. Please enter your User ID correctly to avoid delay on the Lord of the Rings top-up.
WHY BUY FROM US?
We are the authorized online reseller for Lord of the Rings Gems. MooGold offers various denominations in our store depending on your gaming needs. Besides that, we also provide you with multiple payment options. We provide 24/7 customer service and fast & reliable delivery.
Links
Facebook Fan-page:
https://www.facebook.com/gaming/lotrrisetowar
Discord Community:
https://discord.gg/Na7rGAJM6a
YouTube Channel:
https://www.youtube.com/channel/UCkV855DPObfN8wtGedYJ33Q/videos