Description
Delivery Instruction for Onmyoji Arena Top Up with User ID :
Firstly, place your order and contact live chat with your order number.
Next, provide us your User ID as shown in the picture below.
After that, please wait patiently for the Jade to be credited to your account within 30 minutes.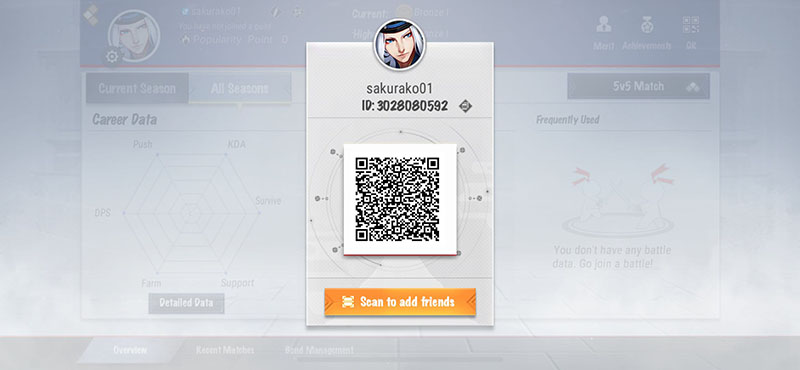 How to find your user ID
Open the game and enter the Game Lobby.
Tap your avatar in the top-left corner and open the My Page tab.
Tap the QR icon, then you can find your user ID.
How to purchase Onmyoji Arena in MooGold
Sign in to MooGold or register a new account at MooGold.com/account.
Go to the Shop page to choose the desired category or games you want.
You can also search through the search bar.
Choose the product and select the quantity you want. Click Add to Cart.
Complete the checkout by choosing a payment method and make a payment.
After successful payment, contact live-chat for listing, etc, and with your order id to receive your item.
Important Information:
Only User ID is needed for Onmyoji Arena Jade top-up.
You may stay logged in throughout the transaction, once the top-up is completed, you will receive the Jade in your Onmyoji Arena account.
Please enter your User ID correctly to avoid delay on top-up.
Onmyoji Arena Game Description
From NetEase's well known Onmyoji series, Onmyoji Arena is true to the original characters while bringing players a brand new MOBA experience. Replacing the conventional paid rune system with a completely free Onmyodo system, the game allows players to fully enjoy fair 5v5 battles. While retaining its delicate Japanese settings, Onmyoji Arena further diversifies its art style by expanding with School, Fairytale, Steampunk, and other skin series, appealing to a wider range of audiences. There's also the addition of Mahjong chess, Shikigami Defense, and 3v3v3 Royal Battle. Download now to have fun in the various game modes!
Beautiful Shikigami with the original voice cast to replicate the Heian world with perfection.
Onmyoji Arena retains the elegant Japanese aesthetics from Onmyoji as well as its stellar Japanese voice cast to give players a more authentic gaming experience. Gorgeous 3D models. Awesome Shikigami ultimates. What are you waiting for? Summon your favorite Shikigami into battle now!
A fair game with no amulets required. Prove your strategic prowess on the battlefield now!
Onmyoji Arena does away with the amulet system, and all players can now create their own combinations of Onmyoji's abilities (Onmyodo) for free. Based on their strategy, players can freely mix and match the abilities in Onmyoji, adding another variable to the game. Moreover, there is no paid system that affects combat stats. Now all is truly fair in battle and lore!
Balance of power. Tons of skills. The battle to your heart's content!
Onmyoji Arena carefully evens out the distribution of power in the game, so that each Shikigami is equally strong yet possesses unique charm. Now there's a useful role for everyone. Shikigami has 4 abilities and 2 general spells, allowing for more combinations of abilities and tactics. Unique ability sets bring about greater possibilities. Innovative map designs and the Fog of War system make strategy even more critical so that players can fully experience this new mobile MOBA. At the same time, the game is revolutionary in that it connects top players from all over the world to test their might.
Innovative Battle Royale for a three-party showdown
The first-ever 3v3v3 battle mode, Battle Royale, incorporates new features like multi-team battles, competition for resources, and fast-paced combat. Players are divided into 3 teams of 3 for an exciting new multi-team experience! In the Battle Royale mode, players will spawn from three locations on the map with the combat zone located in the center. The first team to seal 30 Shikigami shall reign supreme!