Description
Delivery Instruction for Ulala Idle Adventure with Character ID :
Firstly, place your order and contact live chat with your order number.
Next, provide us your Character ID as shown in the picture below.
After that, please wait patiently for the Jade to be credited to your account within 30 minutes.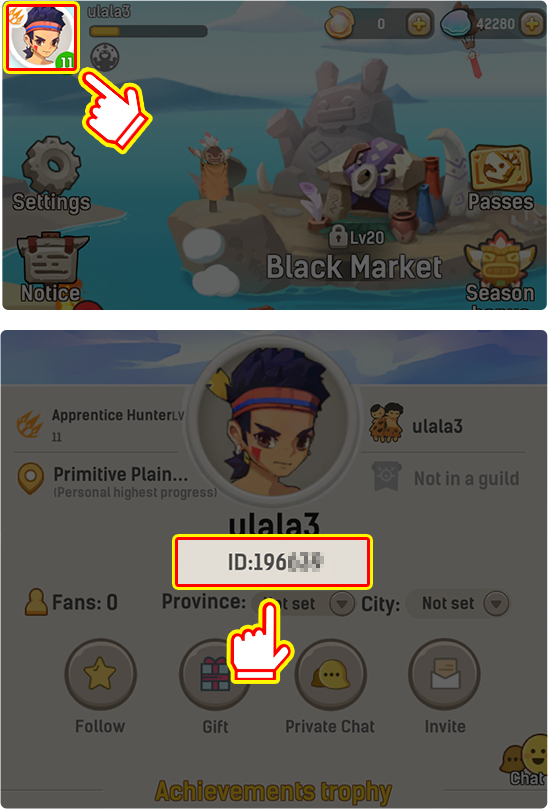 How to find your Character ID
Open the game and click on the top left avatar.
You can find your user ID at below your IGN (In-Game-Nickname).
How to purchase Ulala Idle Adventure Top Up in MooGold
Sign in to MooGold or register a new account at MooGold.com/account.
Go to the Shop page to choose the desired category or games you want.
You can also search through the search bar.
Choose the product and select the quantity you want. Click Add to Cart.
Complete the checkout by choosing a payment method and make a payment.
After successful payment, contact live-chat for listing, etc, and with your order id to receive your item.
Important Information:
Only Character ID is needed for Ulala Idle Adventure top-up.
You may stay logged in throughout the transaction, once the top-up is completed, you will receive the Pearl in your Ulala Idle Adventure account.
Please enter your Character ID correctly to avoid delay on top-up.
Ulala Idle Adventure Game Description
Ulala is an idle MMORPG, which brings to life the excitement and adventures of the Stone Age in a fun and social way!
Could you ever imagine the Stone Age to be so carefree?
At the edge of the desert, and at the foot of a volcano, there lives a group of happy Ulala and a bunch of little monsters. Ice and fire, thunder and electricity, all intertwine on the wild and vast continent where there's constantly a struggle between peace and action. This season's Hunting Horn is about to blow! Ride your little Tyrannosaurus Rex and bring all your friends along to prove yourself to be a top hunter this season in the world of Ulala.
A relaxed RPG?
Want to be the best, but don't want to spend all of your time constantly playing? Come play Ulala! Here, the easy and addictive gameplay will not distract from your daily life! Tired of taking painstaking efforts to upgrade your characters? Come to Ulala, where your character and pets are automatically upgraded and infinitely level-up. This brings a whole new concept and gameplay experience to the very idea of MMORPGs. Anytime and anywhere, here in the land of Ulala you can team-up and make new friends, even while chatting or enjoying a meal! Playing an RPG has never been so easy!
Team-up with friends and make a name for yourselves!
In the world of Ulala, you can enjoy all kinds of bonuses and benefits by teaming-up! Relax, and come to the world of Ulala with all of your friends and family!
A vast and versatile gameplay experience
The gameplay is enriched by a very large choice of skills, equipment, skins, and much more! Collect Epic equipment pieces and Skill Cards to unlock and upgrade powerful skill sets. Ulala says 'NO!' to fixed classes and gameplay styles; presenting thousands of different combinations of skills, equipment, and much more. This allows you to craft and create your own personal class and gameplay style! Get ready to bring along your favorite pet, and dash off to strike a powerful blow to your enemies!
Never-ending choice of pets
Tyrannosaurus Rex, Triceratops, Sabertooth Tiger, Marmots… Have your choice of your own personal pet, which will level-up and grow along with you on your adventure. Just remember to prepare your delicious recipes and traps! We wish you good luck!
For more information:
Official Website:
https://ulala.xdg.com/
Facebook group:
https://facebook.com/PlayUlala/