Description
About Metal Slug Awakening
Metal Slug Awakening is a classic shooting game developed by SNK Playmore,  the game tells the story of the protagonist's fighter jet and tank engaging in intense battles with enemies on the battlefield. The game includes a variety of enemies and powerful bosses, and players need to constantly upgrade their weapons and tanks to survive on the battlefield. In this new mobile version of the game, players can choose different characters and tanks and enter different levels to complete missions. The graphics and sound effects in the game have been greatly improved, and a multiplayer online mode has also been added, allowing players to battle with other players and complete missions together. The game's controls are very simple, only requiring players to use virtual buttons to control the character's movement and attacks, but the difficulty is very high. Only through continuous practice and challenges can players master the game's skills and strategies and become a true Metal Slug expert.
About Metal Slug: Awakening Ruby. How to use rubies?
Ruby is the premium currency in Metal Slug: Awakening. It can be used to significantly improve your character's strength and abilities or used to purchase a variety of items in the game, such as:
Character skins
Weapons
Equipment
Skill upgrades
Stamina refills
How to purchase Metal Slug Awakening in MooGold
Firstly, place your order and contact live chat with your order number.
Besides, provide us your Role ID as shown in the picture below.
After that, please wait patiently for the Ruby to be credited to your account within 30 minutes.
Where to find Metal Slug Awakening User ID?
Use your account to login the game.
Tap the Avatar icon.
Your Role ID will be displayed.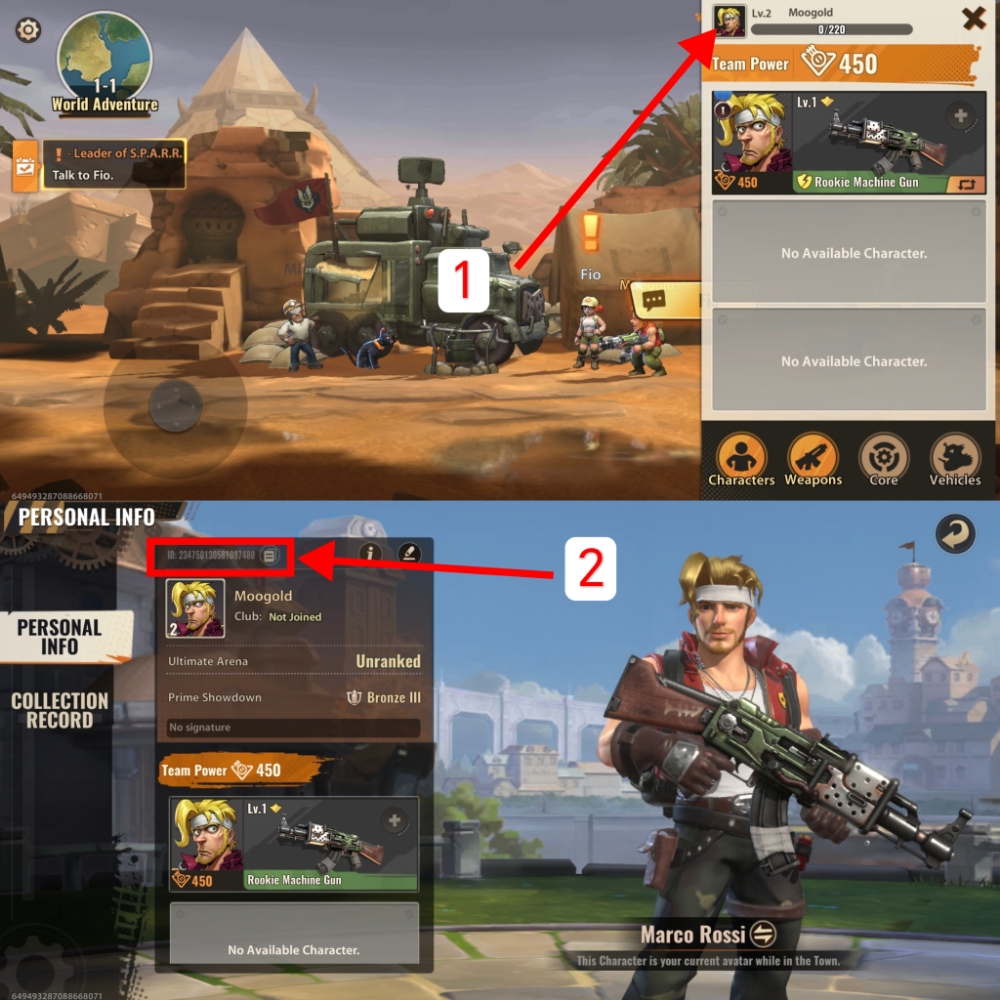 How to purchase in MooGold
Sign in to MooGold or register a new account at MooGold.
Besides, go to the Shop page to choose the desired category or games you want.
After that, you can search through the search bar.
Moreover, choose the product and select the quantity you want. Click Add to Cart.
Furthermore, complete the checkout by choosing a payment method and make a payment.
After successful payment, contact live-chat for listing, etc, and with your order id to receive your item.
Link
WHY BUY FROM US?
We are the authorized online reseller for Metal Slug Awakening. MooGold offers various denominations in our store depending on your gaming needs. Besides that, we also provide you with multiple payment options. We provide 24/7 customer service and fast & reliable delivery.